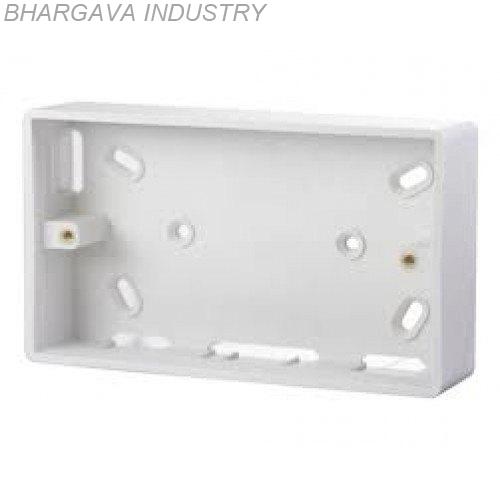 An electric fan box is also known as a junction box, which is round or octagonal in shape with a container which is UL listed to store electrical wire connections. It is fixed to the ceiling joist. The box ensures that the fan is secure and safely mounted. It is quick and easy to install and is highly durable to be used in the long run.
The box usually fits all kinds of ceiling fans and is one of the most critical components of one's electrical system. The boxes are either made up of metal or plastic. For electrical applications metal boxes, are used. Other types of boxes, which are available in the market are round pan or pancake. Both the boxes are 1/2 inch or 3/4 inch deep. The octagon and standard size round boxes are 1-1/2 to 2-1/8 inches deep. Such boxes offer more room for wiring in comparison to the shallow round pan boxes.
The electrical fan boxes are marked with "For use with ceiling fans". The standard boxes should not be used for installing ceiling fans. The box used for the ceiling fan is equipped with a special fastening to bear the dynamic loading of the rotating fan. These boxes are either fixed to the ceiling noisy or wood blocking or fixed with adjustable braces. The boxes are easily available at several online portals at a discounted price, with the added facility of delivery at the doorsteps.
The electric fan box suppliers also deal with electrical distribution boxes, MCB enclosures, boxes, single door SON distribution board, concealed boxes, modular boxes, PVC surface boxes, and many more items.
There are many manufacturers and suppliers, who deal with electric fan box and provide it at a very cost-effective price. There is a huge demand for such fan box, owing to its uses and benefits. The electric fan box is made from high-quality raw material, sourced from the most authorized vendors in the industry. The suppliers ensure the use of the latest advanced technologies so that world-class products are manufactured in bulk quantities, at a lesser price. The electric fan box is made in accordance with the prescribed quality standards and the guidelines, set by the industry. By adopting the ethical business practices and competitive pricing policies, The suppliers can surely attain a remarkable position in the market.
Thus, it can be concluded that electric fan box is irreplaceable and the dealers dealing it with are earning huge revenues.