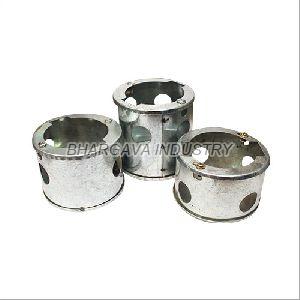 GI Modular Box Manufacturers are supplying the best quality products to the customers. These boxes are Light Weight and in Precise structure. Delivery of the product can be easily made all over the world.
An electrical modular box even called a "module box" is an enclosure housing electrical connections. The modular boxes defend the electrical connections from the weather, and help people to stay away from any sort of accidental electric shocks.
Benefits of the GI Modular Box
• GI Electrical Box is offered with energy efficiency and prolonged service life.
• The standard range of GI Electrical Boxes has bigger sturdiness and is dimensionally precise.
• Custom GI Electrical Boxes are directly resistant to Abrasions, Corrosion, and Vibration.
• GI Electrical Box has Light Weight and Precise structure.
• Hot Dip galvanizing is widely used throughout different markets to give steel unmatched defense from corrosion ravages.
• Outstanding strength and rugged durability.
• GI Electrical Boxes are simply waterproof and weatherproof.
• A broad range of tapped and drilled conduit entrance sizes and areas in the GI Electrical Box for quite a flexibility of use in conduit arrangement.
GI Electrical Box Usage
• GI Electrical Box is widely used in flawless installation and production.
• A custom range of GI electrical boxes is offered for Power and Electrical Distribution.
• Standard GI electrical boxes are widely used in different industries as pull boxes. It is to give enclosures for taps and splices. It is a mounting box for a multi-device control station.
• The product is used for housing apparatus, instruments and more devices.
• The common range of the GI Electrical box has several applications of Steel products in the harshest environments , allowing for the usage of hot dip galvanizing.
• It is broadly used for aesthetic purposes. The products give access to conductors for maintenance and prospect system modifications.
• The product is broadly used in joining wires mutually for easy access to wires.
Technical Features:
• Material of the box: The product is made with Stainless Steel, Galvanized Iron, Mild Steel, Carbon Steel, Neoprene gasket and Stainless Steel Screws.
• Surface Plating: When it comes to, it is surface plating of Nickle Plated Brass, Galvanized Plating and Electro-Tin Plated.
• Standard Finish: As far as standard finish is concerned, it is having Iron Alloy, Hot Dip Galvanized and Heavy Gauge Steel.
Find reliable GI Modular Box Manufacturers
If you are buying the box, you need to find reliable and trustworthy GI Modular Box Manufacturers. They are serving the needs of customers for better products. The manufacturers are using the best quality raw stuff, and the whole range of products is manufactured. They confirm that the raw stuff that they are using is thoroughly checked against different quality parameters. The process of payment is hassle-free, safe, and legal. They don't impose unseen charges while making the invoice and make sure that the money is transferred safely to the manufacturer. The delivery can be made easily all over the world without any delay. Moreover, the packaging remains secure and safe.