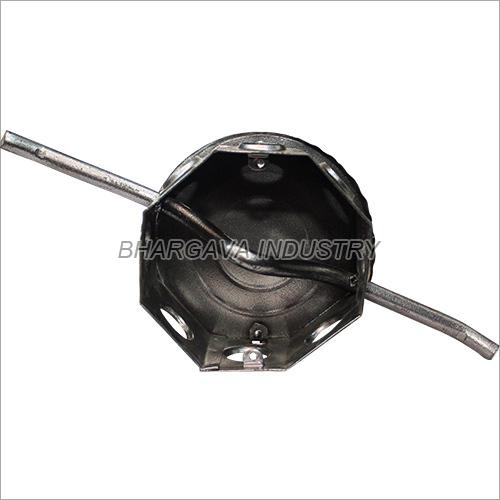 Fan box is an electrical device that helps secure mounting of a ceiling fan. Conventionally, it has been spherical in shape and are used to mount the fan on the ceiling with the help of a hook in the middle designed to endure high strains. It can be cast-off with any type of ceiling fans.
Today, these are available in many shapes and patterns that make it easier in application. Along with having hooks in the middle to hang the ceiling fan it also has multiple holes along the edge of the fan box to tie the wiring along any direction.
HOW DOES IT WORK?
The working method of a fan box is quite simple. It delivers the required support and secure electrical links for uninterrupted power supplies. Along with a fan box, other electrical fixtures like PVC Conduit Pipes, Wires, etc. are used in the fixing process.
The design of the fan box clearly represents how it should be used. It has round holes along the margin for inserting electrical PVC pipes which provide the necessary protection to the wires used for contributing power. A powder coated Fan Box is useful for old and new electrical work. You need to choose the right fan box conferring to your needs.
Benefits of powder coating on fan boxes
Corrosion Resistant
The manufacturers use the latest technologies and raw materials. Their powder coated fan boxes are known for their durability and oxidization resistance. With an eye for quality, they produce high-quality fan boxes at affordable prices.
Sturdy Built
The fan boxes they manufacture using rigid metal processed in advanced moulding machines.
Easy To Install
Fan Boxes are easy-to-install owing to its great product design and consistent build quality. The design offers a secure attachment to the roof permitting it to withstand high gravity pressure.
Classy Design
Although the fan box is not visible after installation, it is still care about its aesthetics. The suppliers have multiple designs for every person's need.
How to pick a powder coated fan boxes Supply Company?
For those who are looking for you need to find the right company. This means finding someone who has the type of fan box you need and much more, including:
• Stock – The first thing you want to ask is if they have stock of the powder coated fan box you need. How many pieces they have in stock compared to how many you need.
• Brands – If there is a specific brand of parts that you want, then you need to ask them if they have it. If they have it or if they can order it just for you.
• Price – Another thing that you need to think about when you are looking at manufacturers is how much they are charging for the parts. If it is a local part, then the price is going to be much lower.
• Delivery – If you are ordering a large amount of parts, then you should see if they can deliver the items to your location. Ensure that you are asking if the delivery is free or if there is a charge for this.
• Customer service – The final factor that you need to think is the customer service they can help you with getting any replacement you need.