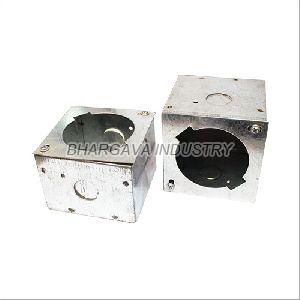 The 'jbox' or the junction box is commonly known as Concealed Metal Electrical Boxes. Very simply put, it is an envelopment that accommodates all electrical connections. It is basically a safety device that protects the electrical connections from weathering effect. It also protects humans from coming into contact with and averts major accidents.
Construction
It is generally made from metal but, sometimes it is made from plastic as well. It is part of an electrical cable or thermoplastic sheathed cable wiring system of a building. It is constructed to be mounted on walls.
It is generally used on ceilings, under floors or behind an access panel – mostly in cases of commercial or domestic buildings. The most suited types are generally hidden on the plaster of walls or even cast into the concrete where only the cover is conspicuous for maintenance work. It contains the in-built terminals for the wire joints.
Importance Of Electrical Boxes
The junction box is a fundamental part of the circuit protection system wherein circuit stability has to be provided. Where emergency lighting or power lines or even the wiring in a nuclear reactor or control room are concerned, the fireproofing system must be extended over the junction box as well. This is to prevent short circuits in the box during any uncalled-for fires.
Few Factors To Consider Before Buying Electrical Box
Before buying your electrical box you must consider a few factors:
• Volume, depth and setback – it should have enough space to accommodate the wires that you need to fit into it. It should not be cramped up. The setback is another thing to be considered.
• Whether you require a new or old box – you must consider the project that your electrical box is to be used for. If you can make do with an old one, then it is alright or, else if your project requires a higher-powered box, then get a new one.
• Cable clamps, knockouts and collectors – the cable type is an important point to consider here. And never try to shove in too many wires into one hole. If required, you can ask the company from where you are purchasing the box to provide you with custom-made holes to accommodate all your wires.
Material Of The Electrical Box
The material make of your electrical box will depend on the environment that you will set it up in. If it is to be set up in the exterior part of your structure then you would require a weatherproof box made of weatherproof material.
Some of the materials that an electrical box can be made from are:
• Steel – These metal boxes can be used indoors as they do not rust and is suitable for NM cable. It needs to be grounded because steel is a conductor.
• Polycarbonate – These are designed for outdoor usage where the effects of weathering can take a toll on it if constructed of metal.
• Aluminium – While opting for aluminium, you will need a gasket to make it waterproof and then it becomes usable outdoors even.
But in general, Concealed Metal Electrical Boxes are the right option and, they are commonly used. The right material of the electrical box ensures its longevity and makes it last longer. And in fact, your place and the people inhabiting that place are secure at all times. Consider your need and the environment it is to be used in.