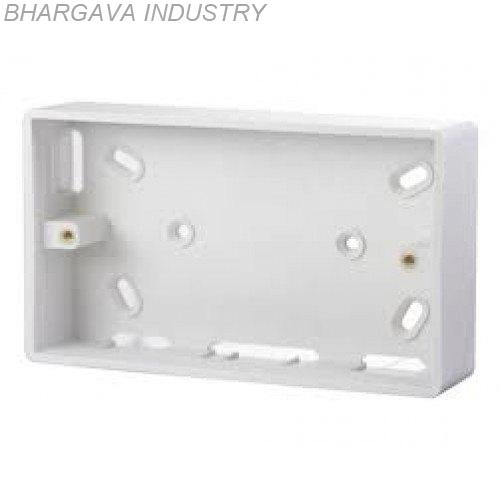 A small plastic or metal surface box can play a key role in forming a TPS (thermoplastic sheathed) wiring system or an electrical conduit in the building. It works best if considered for surface mounting and thus it has a havoc use on the ceilings and floor areas. In the commercial and domestic buildings, it remains covered behind the access panel. It often remains buried under the plaster coating of the walls or can be made a concrete cast with a visible cover to it. Sometimes built-in terminals remain included in the surface boxes so that wires can be joined easily.
Today, most of the PVC surface box manufacturers make sure that the offered range is made with high-quality polyvinyl chloride to offer it more durability and safety. There are several other benefits of using PVC material such as –
• Strong and lightweight: The key technological benefits of PVC are its lightweight, toughness, abrasion resistance, and mechanical strength, which have made it useful in the construction industry.
• Easy to install: PVC can easily get cut, welded, joined, and shaped in a range of styles. In fact, its light weight helps in reducing difficulties regarding manual handling.
• Durable: PVC offers resistance against corrosion, weathering, abrasion, chemical rotting, and shock. Thus most of the outdoor products those demand longer shelf life prefer using polyvinyl chloride material.
• Safe material: Polyvinyl chloride is non-toxic in nature. This safe material is a socially appreciated source and is thus being used for decades. PVC is a researched grade of plastic and thus it easily meets all the international safety standards for both the products and the applications in which they are used.
• Cost-effective: In the industry of construction, due to its technical and physical properties, PVC is a popular choice for decades which is proved to offer multiple cost-effective benefits. The competitive value of this material is also enhanced by its low maintenance and durability properties.
• Fire resistant: Like other organic compounds including textiles, wood, and plastics which are used as building materials, PVC material burns when in contact of fire but it has self-extinguishing property, which means if the source of ignition is withdrawn, they will cease burning. This is mainly due to the high chlorine content of PVC material.
• Versatile: All the physical properties of polyvinyl chloride material allow the manufacturers to design a higher degree of freedom for the new products.
• Good insulator: PVC has no conduction of electricity and thus it is an outstanding product for electrical applications.
Hence, PVC surface boxes manufacturers offer their products to various parts of the industry at cost-effective rates.